Newsletter #7
  Your Weekly Dose of Positive Medicine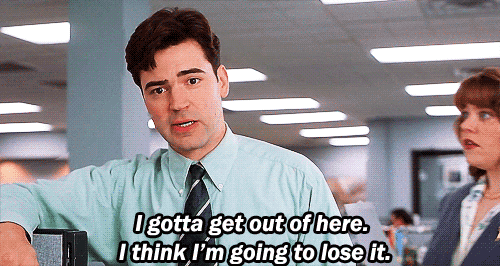 "We cannot change the cards we are dealt, just how we play the hand"
-Randy Pausch
Stress and anxiety are a big part of our lives. Even when things are going well, we often find things to worry about. Our minds are hardwired to search for threats so we manufacture stress where there should be tranquility. Instead of distracting ourselves and trying to push away the inevitable stressful feelings (which doesn't work), let's look for a concise set of rules that will help us embrace and ultimately grow from these daily stressors. Here are 3 powerful steps, to be followed in order, when faced with an undesirable stimulus:
1. APPRECIATE EVERYTHING
When things are going great, it is (relatively) easy to be thankful – we can learn to count our blessings, write our 3 good things for the day and cultivate gratitude – all of which are really important to avoid taking all the positive aspects of our lives for granted. Learning to appreciate everything, however, also includes accepting and being thankful for the bad stuff in our lives. This principle, Amor Fati, or love of fate, implores us to move beyond merely surviving the tough times toward actually embracing them. This is not easy but can be very powerful. The challenge comes when we have to give thanks for the job that didn't work out quite the way we thought it would, the acceptance letter that never came in the mail, or the evening that didn't go as planned. How we handle those circumstances is the true test to our grateful spirit. Giving thanks for the bad stuff – really learning how to appreciate it showing up in your life, allowing oneself to be humbled and open for the lesson that the Universe is trying to teach – can be even more transformative than appreciating the good. It is also much harder to do.
2. ACT AS MY BEST SELF
Acting as your best self is like seeing the finish line but never quite getting there. It is a constant quest for improvement, an upward spiral toward your full potential, climbing a mountain while never reaching its peak. Your best self is an ideal state – fully developed character, virtue in all your actions, behaving with compassion, kindness, perseverance and quiet strength. It is responding to life the way you know you should at all times. It is treating others better than you would like to be treated. It is spending your time and energy on things that matter – things that ultimately make the world around you a better place. The quest for your best self is the quest to fully realize your potential, to close the gap between how we should be living and how we are actually living. Asking yourself how would my best self act in this situation can be very helpful especially when faced with adversity. Working too many days in a row? My best self is thankful for the opportunity that I have to earn a great living while helping others at the same time. Tired of driving kids to multiple activities? My best self knows that these days will soon be gone and I will miss them terribly so try to be more present now. Spending all weekend at a baseball tournament? My best self will "get" to watch the games rather than "have" to watch them. 
3. ALLEVIATE SUFFERING
The final step is critical but also often overlooked in our quest for happiness. Many of us struggle to find "meaning" in our lives. We want to make a huge impact in the world. We want to create a legacy that lasts beyond our life. So we keep searching for that perfect job that ignites our passion and don't feel fulfilled until we find it. Instead of constantly seeking work that we are passionate about, what if we tried to be passionate about whatever work we find ourselves doing? Rather than looking for a worthwhile cause for us to "make a difference", could we simply try to alleviate suffering in some small way each day? In the end, meaning (and happiness) in life is a byproduct of feeling useful. The most useful thing we can do is to lessen the suffering of someone in our little corner of the world. It's easy to want to alleviate suffering in our children but how about spending a few extra minutes with an anxious patient. Asking someone how they are really doing and then taking the time to listen. Often, the suffering that we need to alleviate is our own and requires self-compassion. Learning to quiet the inner critic who is constantly finding fault with what we do. Letting go of repetitive negative thoughts by noticing and reframing them. Since everyone is suffering in some aspect of their lives, we are given ample opportunities to be useful. To seize moments where we can lessen suffering each day.  These are the moments that provide meaning in our lives, moments where we feel alive, moments that matter. 
These three steps can provide a framework for us to thrive, not merely survive, the stress and daily struggles of life. So the next time you are faced with a stressful stimulus – something not turning out the way you wanted it to or anxiety about an uncertain future – try to appreciate what you have and the chance to learn the lesson that the universe is trying to teach, arrange whatever pieces have come your way to the best of your ability, and reduce suffering wherever you can (especially your own). 
Now on to this week's ideas…
This week, we are featuring John Jurica, MD, MPH, CPE. John is the host of the popular Physician Nonclinical Careers Podcast and the founding partner in the Clinicians Career Cooperative.
…..
"We almost all have a character inside our minds whom we might call the inner critic. It tends to pay its visits late at night, it waits until we're very tired or physically depleted – and it then it starts to whisper vicious and appalling things to us in order to destroy all possibility of peace, self-confidence and self-compassion.
Inner Critic: You're a total loser.
 There is never one story of a life; the difference between hope and despair hangs on a different way of telling contrasting stories from the same set of facts. Of course you could spin everything as a tragedy; of course there's enough material for a suicide. But let's try another route.
This is another way of telling your life story: 'Against enormous odds, you attempted to live decently; you made some serious errors, as all humans will and you paid a very heavy price for them. In many ways, you suffered far more than is your due. You've been through hell. Nevertheless you tried to be good and loved a few people properly and attempted to keep going.' On your gravestone, it might say: 'Tried very hard.' Or 'Despite everything, heart was in the right place'. And that would be an equally valid and a far kinder story."
In this excellent School of Life article, we are given practical, truthful and comforting suggestions for how to respond to the toxic critic in our head the next time "they come calling with dagger or chain saw in hand".
 
2.  Renowned Pittsburgh professor, radiologist and nine-time Golden Apple winner dies
"He had this encyclopedic knowledge of radiology in particular, and about medicine in general and he had a photographic memory, but his true passion and gift was in teaching…He was the best teacher in our profession"  – Jules Sumkin, DO Chairman of Radiology UPMC
Carl Fuhrman passed away this past Saturday evening in the chest reading room at the University of Pittsburgh Medical Center. There is no one in radiology who has made more of an impact on so many medical students, trainees and physicians. I have had the privilege of training under Dr. Fuhrman during residency and think of him often while reading a chest xray or CT. I know that I am not alone. Rest in peace Carl – you will be sorely missed but never forgotten.
 …..
Physicians Helping Physicians Spotlight
John V. Jurica, MD, MPH, CPE
Host, Physician Nonclinical Careers Podcast
Founding Partner, Clinicians Career Cooperative (clinicianscooperative.com)
1. Can you tell us a little about your career path and what led you to your current role running the Clinicians Career Cooperative?
I started out as a typical family physician in a small private practice. But I quickly found myself volunteering for committee work, and providing part-time support to the hospital, first as a utilization review physician advisor, then as medical director for its family planning and occupational medicine clinics.
I developed an interest in healthcare finances and leadership. So, I completed a Master's in Public Health, and joined the American Association for Physician Leadership (at the time it was called the American College of Physician Executives) to learn more about healthcare finances and management. I also began to experience burnout. The increasing burden of regulations, difficult EMR implementations, uncompensated paperwork, and the need to see more patients became an immense emotional strain. 
So, I convinced the hospital CEO to hire me as the first VP for Medical Affairs and then Chief Medical Officer. I ultimately left direct patient care completely. I found my work as CMO to be much more fulfilling than clinical work.
And I discovered that other physicians wanted to shift to careers built on their medical training and experience that did not involve direct patient care.
So, I shifted gears completely. I left hospital leadership, partnered in an urgent care start-up, and began podcasting so I could learn more about unconventional careers for disenchanted physicians. Through the podcast, I began to see that there were many fulfilling options for physicians that did not come with the baggage of long hours, frequent call responsibilities, and the constant threat of a lawsuit.
I have now dedicated myself to helping my colleagues find fulfilling careers that bring them joy in any way that I can. I provide inspiration and education about nonclinical careers via my blog, podcast, the Physician Nonclinical Career Hunters Facebook Group, the Nonclinical Career Academy, and my latest venture, the Clinicians Career Cooperative.
2. How did the Clinicians Career Cooperative get started, and what are its goals?
There is a growing need for mentoring, coaching and teaching physicians and other clinicians how to recognize and overcome burnout, find more balance in their lives, and pursue new careers that enable them to express their unique talents.
For the most part, what has been available to clinicians so far is free, sometimes misleading, promotional information on the Internet, or very costly one on one coaching and online courses. The latter are often quite helpful, but limited in reach because of the reluctance of skeptical clinicians to commit the time and money to access them.  
A small group of clinicians have stepped up to help these colleagues by becoming expert coaches, consultants, speakers and authors in the area of unconventional careers. One of those consultants, Dr. Tom Davis, approached me last year about collaborating on a project that he believed would help to address this need. 
Tom and I recognized that frustrated clinicians would benefit from basic mentoring provided in a safe environment, with the opportunity to engage multiple mentors whose work had already been validated. We believe that a low-cost online forum provides such a solution. It enables members to post questions at their convenience in dozens of topics, and engage with a growing panel of knowledgeable mentors. Over time, members can develop rapport with one or more of the mentors and pursue a direct coaching relationship if desired, or access their paid courses.
As a typical online forum, members are notified when new content is added in their areas of interest. Then meaningful conversations continue over a period of days and weeks. And the forum has the ability to provide free audio and video content. Tom and I have already provided extensive discussions pertaining to telemedicine and hospital management, respectively. And everything is easily searchable and archived indefinitely.  
Over time, we expect the Cooperative to grow in terms of members, topics covered and available mentors (both in terms of numbers and breadth of expertise). And it will become an abundant source of actionable advice for clinicians seeking new opportunities.
3. What do you enjoy most about the work that you do? What excites you?
Everything that I now produce in the online world centers around three beliefs or guiding principles that I follow. I believe that:
All physicians are part of my family or tribe. We have a shared set of experiences that binds us together. And I care about my family.
My physician colleagues deserve a career and a life that brings them joy and fulfilment.
Physicians are natural leaders.
I personally find fulfillment by creating resources that help my physician colleagues, mentees, students and listeners accelerate their career transition, if that is what they desire. I'm passionate about maintaining and improving the tools and programs I've created to help physicians, from the Facebook group, to the podcast and Nonclinical Career Academy.
And the thing I am most excited about right now is the Clinicians Career Cooperative that I described above, for several reasons:
It is a unique resource for clinicians;
It is just getting started, and we're getting traction with members;
We're attracting more mentors; and,
We're inspiring and informing physicians and other clinicians who have had enough, and are successfully escaping the medical industrial complex and serving patients in new ways that bring joy to their lives.
4. What do you wish you had known as a young physician?
I like that question. There are so many things!
I wished that I had known that:
I have much more choice and flexibility in my career and life than I realized;
I could use mentors to help me avoid mistakes and accelerate my career journey;
There are many organizations looking for physicians to advise, direct, and lead them, from accrediting bodies, to educational institutions, to nonprofit healthcare organizations and others; and,
I could create a life that is balanced and fulfilling by being intentional, and working with my closest friends and family to define and pursue that vision.
Registration now open for the 2020 Virtual Conference
Thanks to our editorial board!
Jordyn Feingold, MAPP
David Fessell, MD FACR
Harry Karydes, MD
Sanj Katyal, MD FACR
Rajiv Kinkhabwala, MD
If you are interested in submitting an article for publication or joining our editorial team, please simply reply to this email!
 
****
 
Two Quick Things Before You Go…
As physicians, now more than ever, we desperately need to do a better job of supporting each other.  If you are struggling with the current demands of medicine, please know that a FREE confidential formalized peer support for physicians by physicians is finally in place. Contact Physicians Confidential. 
First time here and like what you see? Please share with your colleagues and subscribe below to join our Positive Medicine community!